Speeder
Speeder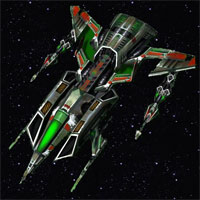 "Noxies" race special ship. This is the fastest war ship in the game. It has a good firepower and ship hull for its price, but it requires some gas for the building too. It has a relatively small cargo hold.
"Noxies" race special ship
Purpose: War ship class Requirements: Shipyard(Level 4)Impulse systems(Level 3)Ship armor(Level 5)
Stats
Cargo: 300Attack: 1800Ship Hull: 20000Speed: 17500Gas consumption: 330Cost: Metal: 12750, 3400 Crystals, 850 Gas - this is the cost, considering the Noxis cheaper ships bonus.Weapon: Laser; Armor: 11% Light; Improvements in Factory: 7% per level.
Factory upgrades:
(Factory upgrade available for "Noxies" race only)
| Level | Metal | Crystals | Gas | Attack | Ship Hull |
| --- | --- | --- | --- | --- | --- |
| 1 | 7 500 | 2 000 | 500 | 1926 | 21400 |
| 2 | 15 000 | 4 000 | 1 000 | 2052 | 22800 |
| 3 | 30 000 | 8 000 | 2 000 | 2178 | 24200 |
| 4 | 60 000 | 16 000 | 4 000 | 2304 | 25600 |
| 5 | 120 000 | 32 000 | 8 000 | 2430 | 27000 |
| 6 | 240 000 | 64 000 | 16 000 | 2556 | 28400 |
| 7 | 500 000 | 130 000 | 30 000 | 2682 | 29800 |
| 8 | 1 000 000 | 250 000 | 50 000 | 2808 | 31200 |
| 9 | 2 000 000 | 500 000 | 100 000 | 2934 | 32600 |
| 10 | 4 000 000 | 1 000 000 | 200 000 | 3060 | 34000 |