Ion technologies
Ion technologies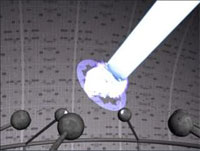 Based on the ion research developments, the scientists constructed a ionizator and put it into a Ion cannon.
Features of the research
Each type of ship or defence is equipped with different type of weapon. Those weapons can be Laser, Ion or Plasma. Each level of this research increases the attack with 5% of all ships and defence using Ion.
Ships:
Defence:
Requirements: Science facility(Level 4)Laser systems(Level 5)Energy systems(Level 4)
Maximal level of the research: 16
Price:
| Level | Metal | Crystals | Gas |
| --- | --- | --- | --- |
| 1 | 1 000 | 300 | 100 |
| 2 | 2 000 | 600 | 200 |
| 3 | 4 000 | 1 200 | 400 |
| 4 | 8 000 | 2 400 | 800 |
| 5 | 16 000 | 4 800 | 1 600 |
| 6 | 32 000 | 9 600 | 3 200 |
| 7 | 64 000 | 19 200 | 6 400 |
| 8 | 128 000 | 38 400 | 12 800 |
| 9 | 256 000 | 76 800 | 25 600 |
| 10 | 512 000 | 153 600 | 51 200 |
| 11 | 1 024 000 | 307 200 | 102 400 |
| 12 | 2 000 000 | 600 000 | 200 000 |
| 13 | 4 000 000 | 1 200 000 | 400 000 |
| 14 | 8 000 000 | 2 400 000 | 800 000 |
| 15 | 16 000 000 | 4 800 000 | 1 600 000 |
| 16 | 32 000 000 | 9 600 000 | 3 200 000 |