Payment Process
Go to VIP menu and click "Buy Coins" or directly click the link for Coins.

On the left side there's a menu from which you can change your country and currency. Choose payment method (you can choose between following options: ePay, Credit Card, PayPal, SMS, Money Bookers, and ClickAndBuy). On the right side you can choose the package that best suits you.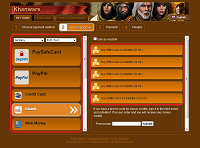 Make the payment
You will see information details about your payment according to the method chosen before – Order Number, Amount, Credits you will take, and Method. If you buy Coins via sending SMS you will see a code which you have to send to the short number given below it.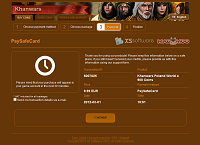 We used PayPal for the example. Click "Continue". You will be directed to the site to make the payment.
IMPORTANT:
All packages include VAT
Vouchers
Payment Vouchers are a good option for players who use the Paid options of our game. The Voucher has a code that is generated at the time of payment. When you buy credits, you can choose to generate a Voucher. The generated Voucher can be used when the player decides in any of XS-Software's games.
Don't hesitate to fill in your code, even if this is not the game in which you bought the Voucher. Fill in the three letter codes in the three fields as follows.
Promo Code
If you have a promo code for bonus credits, type it in the field below and activate it. Pay your order and you will receive your bonus credits.

Support
If you have any payment problems, contact our Support team, using the "Support" button.